Waiting
Add to Wishlist
Compare
Related products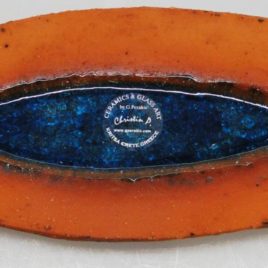 Plate stongouer oval 27 x 10 cm
[:el]Πιατέλα στόνγουερ οβάλ με γυαλί κρακελαρισμένο. Διακόσμηση υψηλού επιπέδου !!!!!
Τα προϊόντα μπορεί να διαφέρουν λίγο  ως προς το χρώμα το σχήμα η το μέγεθος. Αυτό ίσως  οφείλετε στην διαφορετική απόδοση των χρωμάτων της  φωτογραφίας αλλά βασικά  στο ότι είναι χειροποίητα και αυτό τους δίνει μεγαλύτερη αξία για την μοναδικότητα τους.
[:en]Stongouer oval platter with cracked glass. High level of decoration !!!!!
The products may vary in color scheme or size. This may be due to different color rendition of the photo but basically that is handmade and it gives them more value for their uniqueness
[:]
25,00

€

συμπ. Φ.Π.Α
Add to cart
Quick View
Compare